Introducing: Nuley NRF2 Optimizer
Welcome to Nuley: Vitality Reinvented. We are proud to be the primary producer and distributor of Nuley-brand supplements. Our available products touch on every area of the supplement industry, but we are known for our antioxidant boosting supplement, Nuley NRF2 Optimizer. Our specially formulated NRF2 Optimizer is an antioxidant enforcing supplement that is intended to upregulate our body's natural antioxidant defense mechanisms for detoxification, reduction of oxidative stress and also downregulates mechanisms that relate to inflammation and overall disease progression.
Oxidative stress is a known byproduct of free radical damage to the cellular structures in our bodies. The results of many peer-reviewed studies have shown oxidative stress caused by free radicals to be one of the primary instigators of hundreds of diseases and ailments, including the aging process, arthritis, and reduces oxidative stress. Nuley NRF2 Optimizer reduces oxidative stress by encouraging your body's genetic makeup to produce powerful antioxidants and eliminate free radicals.
In the past several years, the available knowledge on the antioxidant boosting power of the NRF2 genetic transcript has vastly increased. Thanks to over 2300 available peer-reviewed studies that are currently available on the subject, our knowledge of the NRF2 pathway is growing faster than ever. Current research suggests that through activation of the NRF2 transcript, our bodies naturally produce powerful antioxidants to reduce the free radicals that cause oxidative stress and, by association, improve our overall wellness.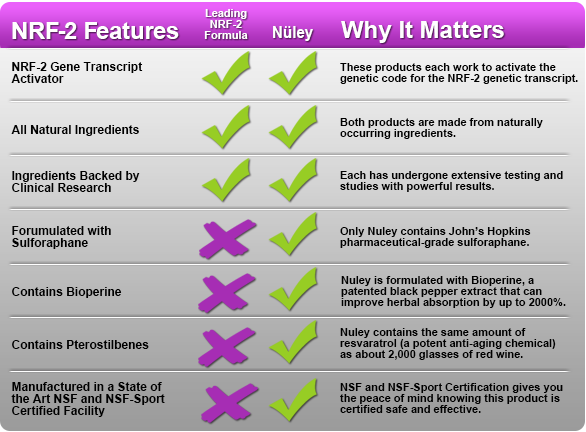 Nuley's 100% naturally-sourced and vegetarian ingredients help to improve our body's antioxidant support, Anti inflammatory support and detoxification processes. Although we ingest antioxidants in the food that we eat every day, it is widely known that we cannot eat enough antioxidants to compensate for the volume of free radicals that attack our bodies. Nuley's modern NRF2 antioxidant amplification supplement represents the pinnacle of knowledge regarding Anti aging nutrition, and increases your body's natural antioxidant process over 1000%.
Nuley NRF2 Optimizer is formulated to reduce health risks associated with oxidative stress.
Our blend of medical-grade ingredients includes the power of sulforaphane, a thoroughly-researched Anti-oxidative stress  compound naturally found in Broccoli. Sulforaphane is one of the most potent reducer of oxidative stress preventing compounds discovered, and Nuley is the only supplement on the market that uses pharmaceutical-grade sulforaphane from Johns Hopkins University.
Hundreds of people from all over the world have reported myriad benefits from adding Nuley NRF2 Optimizer to their daily nutrition. Take control of your wellness today by ordering a bottle of Nuley NRF2 Optimizer!
Everyone knows how critical adequate protein intake is to your general health. The increasing demand for natural, vegetarian and vegan protein powders has led us to one of the newest additions to the Nuley Dietary Supplement catalogue. Nuley Pro-Free is a naturally sourced vegan protein powder. This plant-based protein complex is completely vegetarian and vegan friendly; no animal byproducts are used in the production of our Vegan Protein Powder. Nuley Pro-Free is also lactose-free, sugar-free and gluten-free for those of us who are sensitive to dairy, sweets and gluten.
As a functional food, Nuley Pro-Free Vegan Protein Powder contains 100% unadulterated vegetable protein. Also, there are no additional micro- or macro-nutrients in our vegetarian protein supplement. As a protein complex, it can be easily added to any food to balance your diet with additional protein. Our vegan protein powder is designed to be a perfect alternative for those with food-borne allergies to milk, eggs, soy and wheat, or for anyone looking for an animal-friendly protein source. If you are looking for a new source of healthy protein to stabilize your diet, try Nuley's Pro-Free Vegan Protein Powder!
Nuley Rejuvenate is an anti aging supplement that is a specially formulated blend of protein-nourishing compounds meant to fight signs of aging from the inside-out. By utilizing and empowering our body's natural restorative properties, Nuley Rejuvenate has been shown to reduce the appearance of facial wrinkles and fine lines, strengthen hair and nails, and promote healthy joints and bones. You can rediscover the joy of youthful activity and self-confidence with Nuley Rejuvenate.
There are a variety of Anti aging supplements on the market, but they are usually specific to wrinkle reduction alone. Nuley Rejuvenate offers more; we go beyond the standards of traditional Anti aging supplements by designing our product to offer a multifaceted approach to aging. Wrinkle reduction, hair and nail strengthening, increased bone density and flexibility, and improved joint health are all facets of the Nuley Rejuvenate Anti Aging supplement. If you are starting to "feel the years," or are interested in improving your overall health, order a bottle of Nuley Rejuvenate today.
New Products
Restore your body's natural nutritional balance with Nuley Purify. Our natural detoxifier, Nuley Purify is designed to promote full-body cleansing with 100% natural ingredients. Whether you are feeling lethargic, drained or simply exhausted, this nutritionally-derived energy booster and detoxification system can restore your energy and wellness while removing harmful toxins from your body. Nuley Purify's ingredients are selected to act as a macro- and micronutrient supplement that supports healthy hormone metabolism and chemical balance.
It is difficult to ensure your body is getting everything it needs with the confusing systems of food production and nutrition that we normally tangle with at the grocery store. Nuley Purify is here to simplify your nutrition decisions and take the guesswork out of what you should be eating. We currently offer two flavors of Nuley Purify: Chocolate and Vanilla; new flavors are being considered for the future. If you have been seeking a body cleansing product that will provide you with a complete detoxification and a wonderful source of nutrients, Nuley Purify is a product for you.
Most of us are living in a world of constant action; our jobs and personal lives keep us rushing to juggle all of our responsibilities, and it can create a lot of stress. Nuley Serenity is a mood-enhancing supplement meant for relaxation and hormonal balancing. By providing support for the circulatory system and the nervous system, Nuley Serenity is able to offer a comprehensive mood enhancement via the body's existing mechanisms.
Nuley Serentiy has been shown to support production of mood-related neurotransmitters like Serotonin, GABA and Dopamine to help reduce stress and increase overall mood. Along with neurotransmitter production support, Nuley Serenity is also formulated to encourage enhanced glial cell function, increased osmoregulation of brain nutrients, and more efficient neuronal transmission. Chemical balance, neuroprotection and efficient synaptic communication are all critical to healthy brain function, and with Nuley Serenity, all of those critical elements of brain function are part of our formula.